What's the difference between straight plain square edge stick and round edge stick?
There are two kinds of ice cream stick with same sizes.
One is called straight edge stick, flat edge stick, plain edge stick, square edge stick: with long side edges flat, straight, without chamfering.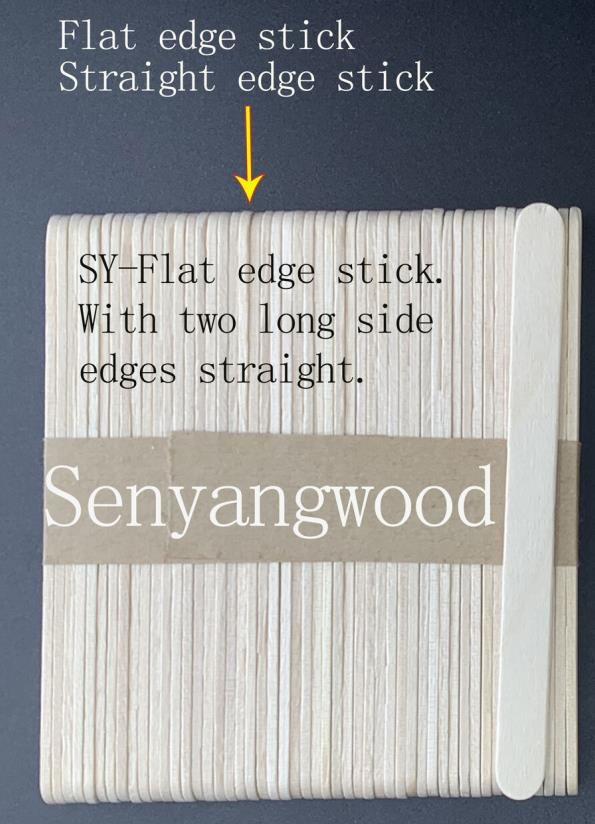 One is called round edge stick, bevelled edge stick: with two long side edges chamfered, bevelled.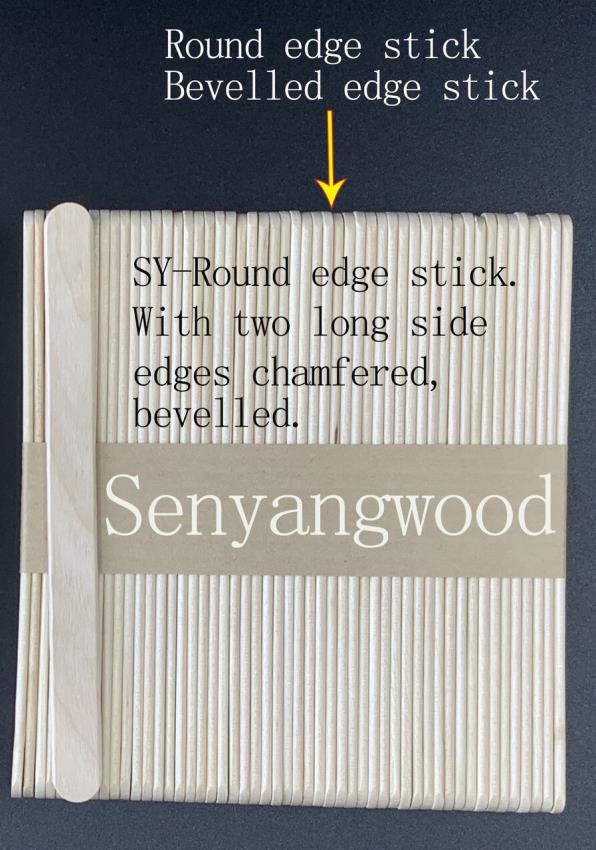 Both round edge ice cream stick and flat edge ice cream stick are for machine feeding grade.
See how sticks are working on automatic ice cream machines,
Why round edge stick is more expensive than straight edge sticks? One important answer is round edge sticks use more wood logs.
Usually width of ice cream stick is between 9.5-10.0 mm, round edge sticks needs chamfering process. This step will cut 0.5 - 0.6 mm width of wood sticks.
Straight edge sticks just cut 9.5 - 10.0 mm width wood.
Round edge sticks needs to cut 10.3 - 10.9 mm width wood. After chamfering, width will be 9.5 - 10.0 mm.
Generally, round edge stick will use 8% - 10% more wood logs, this is key reason why round edge stick is more expensive than straight edge stick.

Round edge ice cream stick has 3 more processing steps to avoid soft hairs or burs at side edges.

Well polished round edge ice cream sticks gives ice cream better looking. This kind of polishing can avoid potential claim from consumer like mouth hurt by wood soft hair. If this kind of soft hair or burs came into ice cream, it will be foreight material in food safety control system.
To give a better safety using system and avoid potential foreign material risks, more and more ice cream producers use bevelled edge stick (round edge) stick.

More careful sorted round edge ice cream stick, no splinters, no burs, no potential risk of harming consumers.

For a better ice cream, Tianjin Senyangwood Co., Limited recommand round edge wooden ice cream sticks.

Choose good ice cream stick, choose Tianjin Senyangwood Co., Limited,
all production is under HACCP and GMP requirements, factory has FSC wood and
BRCS food packaging certificate with Grade A level. We do not produce food but we produce food contact materials. We use same food control sysytem like ice cream producer.
For more information about ice cream sticks, you can submit an inquiry here:
If you want to have more idea about ice cream sticks with various sizes, please visit here:
If you also need ice cream spoon, please visit here: